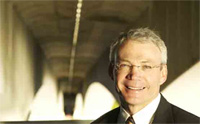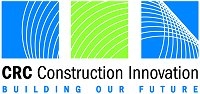 July 2008
By Dr Keith Hampson
Chief Executive Officer
CRC for Construction Innovation
Garnaut Report supports an expanded CRC
Professor Ross Garnaut paints a disturbing picture of the cost of inaction on climate change in his recently release draft report and argues the case for early action – before the problem gets beyond human control.
The building sector is responsible for a large proportion of Australia's greenhouse gas emissions and can make a major contribution to meeting a deep cuts target.
Almost a quarter (23 per cent) of Australia's total greenhouse gas emissions are a result of energy demand in the building sector, both residential and commercial. 
A report released last year by the Australian Sustainable Built Environment Council (ASBEC) – the peak body of key organisations committed to a sustainable built environment in Australia – estimated that the building sector as a whole could reduce its share of greenhouse gas emissions by 30-35 per cent whilst still accommodating growth in the overall number of buildings by 2050.
This can be achieved by using today's technology to significantly reduce the energy needed by residential and commercial buildings to perform the same services. For example, by replacing equipment with more energy efficient models, at the natural replacement rate, and upgrading the performance of the building shell.
It is for these reasons that Professor Garnaut has recommended an expansion of the CRC for Construction Innovation (p.464), for there is much an integrated industry, government and research national centre can do in the way of furthering development of such technologies and implementing them across industries.
It is proposed that a new CRC, formed from our well-known current CRC, focus on developing a platform for a sustainable built environment, encompassing not only buildings but infrastructure.
In addressing this need, the National Industry Stakeholder Forum comprising industry associations and industry organisations mandated in December 2007 that the organisation should focus on developing a bid for a new centre – the Sustainable Built Environment CRC.
This new centre would commence operations in 2009 and deliver:
integrated solutions to minimise water, energy and waste in new and existing infrastructure and buildings to reduce carbon emissions in the built environment
world class research to improve occupational health and safety on Australian construction sites
improved procurement frameworks and a foundation for transforming the business environment to improve industry productivity.  
In doing so, the new CRC would build upon the history of achievement of the CRC for Construction Innovation. In the sustainability field, some of these achievements include:
Construction Innovation was a foundation member of ASBEC and our Chair, John McCarthy, was the founding Chair of ASBEC. We also actively contribute to policy debate through submissions to government inquiries and standing committees.
Construction Innovation's Sustainability and the Building Code of Australia project [Ashe, 2001-013-B] has provided a key framework to inform current and future Australian Building Codes Board policy on energy, water, indoor air quality and materials.
Construction Innovation, in partnership with The Department of the Environment, Water, Heritage and the Arts, and ASBEC, developed and launched the Your Building website. Your Building is the key online Australian resource about sustainable commercial buildings. It provides information for all those involved across the building life cycle from investors, owners, and occupiers to developers, builders, designers, and facility managers. The site aims to change behaviours towards more sustainable outcomes across the commercial buildings. Since its launch on 28 September 2007, the site has received nearly 100,000 hits from 40 countries.
Our Sustainable Subdivisions: Energy-Efficient Design research project examined sustainability in the residential housing sector, by researching the most energy efficient layouts for new subdivisions. This research showed that a well-designed suburb can save its residents 20 percent on their regular power bills and reduce the greenhouse emissions of the typical Australian home by 700 kilograms a year and, with solar hot water, by two tonnes a year.
The new Sustainable Built Environment CRC will promote project outcomes, facilitate technology diffusion and market new technologies through alliances with companies, industry associations, educational institutions, the media and key industry organisations such as ACIF and APCC.
The CRC will engage in international collaborations where there are opportunities for skills development and the export of services. The CRC will actively communicate its research achievements and the adoption of its outcomes to industry, government and the domestic and international community. The new CRC will establish a formal program to deliver education, training and professional development to its industry and university stakeholders.
In this way, we can continue to facilitate the collaboration between industry, government and researchers to address the requirements for improved industry productivity, sustainability and global competitiveness, and to create the pathways to transform the business and operating models in the industry over the next 10-15 years.
But we need to act – now.