International Conference 2004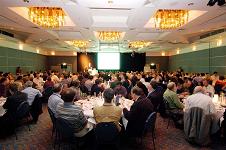 ( Download Conference CD (40mb) (Zipped) )

( Review Conference CD material )

The CRC for Construction Innovation is proud to share the success oftheir first International Conference Clients Driving Innovation withyou. Attended by 210 people from 12 countries with a balancedrepresentation from industry and research, the conference providedextensive networking and information sharing opportunities and furtherraised our standing on the international stage. The event created theperfect launchpad to our second International Conference ClientsDriving Innovation - moving ideas into practice to be held 13-14 March,2006.

Conference highlights include the attendance of and addresses by theHon Minister for Public Works, Housing and Racing Robert Schwarten MPand Janet Holmes a Court,Chairman of John Holland Group, the international standing of our keynote speakers, the launch of The International Construction Research Alliance (ICALL), and the quality and diversity of property and construction themes covered by the refereed papers and case studies.

Construction Innovation wishes to thank the sponsors and all thosewho contributed to this milestone event in the life of the CRC.
Launch of
The International Construction Research Alliance
(ICALL)
| | |
| --- | --- |
| Keynote presenters: | Papers |
| Prof. Martin Betts (QUT, Australia) | Presentation |
| Prof. Peter Brandon (University of Salford, UK) | Paper |
| Murray Coleman (Bovis Lend Lease, Australia) | Presentation |
| Prof. Martin Fischer (Stanford University) | Presentation |
| Dr Greg Foliente (CSIRO, Australia) | Presentation |
| Keith Futcher (EastPoint Ltd, China) | Paper | Presentation |
| Pekka Huovila (VTT, Finland) | Paper | Presentation |
| Bill Wild (John Holland Group, Australia) | Paper |
| Janet Holmes a Court (John Holland Group, Australia) | |