Soon Kam is Outstanding Young Malaysian of the Year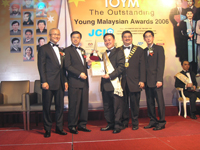 Soon Kam Lim (Centre),
receives his award
The CRC for Construction Innovation has a history of supporting high achieving scholars dedicated to their studies and the community and Soon Kam Lim is certainly no exception.
In November at the Award Night in Kuala Lumpur, Soon Kam was awarded as one of seven honourees for the Outstanding Young Malaysian Award 2006.
This Award is jointly organized by Junior Chamber International Malaysia, Ministry of Youth & Sportsand Ministry of Information of Malaysia, and the Malaysia Book of Records, "to accord recognition to young Malaysian between the ages of 18 and 40, whose dedication to their profession or life undertakings has resulted in exceptional achievement, in the form of significant contributions to the progress or welfare of the community at large and to the advancement of their respective fields of endeavour.
Malaysias Star Online newspaper said the Award was in recognition of Soon Kams academic excellence and his his 13 years of outstanding contribution towards the development of academic, moral and spiritual education of children and youths from the Jenjarom community.
Soon Kam is currently undertaking a PhD with Construction Innovation entitled Enhancing Sustainability Deliverables in Construction Project Delivery, under the supervision of Professor Jay Yang at QUT.
Soon Kams award was celebrated in his community with a gathering of 800 villagers including Teluk Datuk assemblyman Datuk Ei Kim Hock as well as former teachers and community leaders.
Soon Kam is a model of what todays youths can do for their community and I am very proud of him, Assemblyman Ei said.
I hope he will continue to actively help improve the lot of others, said Ei.
Soon Kams supervisors and all associated with him at Construction Innovation have no doubt he will do exactly that.
Congratulations Soon Kam!