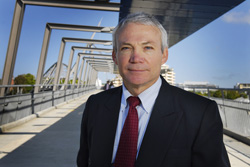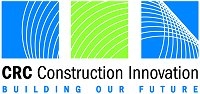 March 2009
By Dr Keith Hampson
Chief Executive Officer
CRC for Construction Innovation
SBEcrc geared to serve an industry in need
For an industry that has been celebrating the good life, the recent slump in construction resulting from the global financial crisis is hitting hard. Weave into that mix the implications from climate change and you'll find an industry if not in crisis, certainly under considerable duress.
The government stimulus packages instigated over the past months will go some way to alleviating the situation, but more is needed – and it's not
all
about money. The infrastructure and building industry needs to be smart about how future projects are delivered and also ensure that they are underpinned by clear sustainability principles.
With a track record of achievement across many areas though particularly in safety, digital modelling and sustainability, the CRC for
Construction Innovation
is ready to address these future challenges as the
Sustainable Built Environment
CRC (SBEcrc).The need for such a national applied research organisation able to contend with the complexities and difficulties that face the industry has never been greater. The groundwork has been done, the support is there, our networks strengthen and grow, and the bid document itself is on the homeward stretch for the 20 March submission.
The much expanded and more integrated training program that SBEcrc proposes will be vital to help a post-financial crisis, deskilled workforce recover —equipping them with skills that will better serve them in a construction environment with a much greater focus on environmental sustainability, safety, productivity and digital modelling. This skills focus of SBEcrc is further supported by the 2008 report
Growing the green collar economy
that concludes that under a carbon trading scheme,employment in high potential environmental impact sectors, such as construction and transport, will grow and that new approaches to green education, training and jobs are needed.
In wrapping up, I'd like to briefly refer to just three of the highlights for the first half of 2009, each representing a critical area for the industry —sustainability, dispute avoidance and digital modelling.
In a major milestone,
Your Building
, the web portal for commercial sustainable buildings has been successfully handed over to the capable hands ofthe Property Council of Australia. This ensures that this valuable tool will continue to expand and be a dynamic, up-to-date resource for a wide range of industry professionals.
The Dispute avoidance and resolution guidelines launching in Canberra on 28 May will identify the root causes and cost of disputes on construction projects and develop practical industry strategies to avoid them.
The
National Building Information Modelling (BIM) Guidelines
and
Case Studies
will be previewed at the
Australian Institute of Architects National Conference
(30 April – 2 May, Melbourne). These documents and the associated workshops will encourage open and consistent processes in BIM and assist practitioners to work together in developing shared virtual building and infrastructure projects and allow for better online collaboration between design and construct project team members.