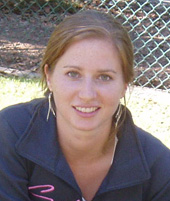 Jennifer Tobias,a Civil and Environmental Engineering major and part of Stanfords Green Dorm project, recently visited Australia through her interest in the CRCs
LCADesign
project. More details
In addition to highlighting renewable energy sources such as solar arrays, fuel cells, and wind turbines, the Green Dorm at Stanford University will also incorporate numerous conservation features to minimise its consumption of energy and water. This project led Jennifer to join a student group working with the project design team to discover sustainable pathways and develop a case study around Life Cycle Assessment.
Her case study questions whether a steel or a wood structural system is more sustainable, taking seismic events into account. The dorm will be located in Palo Alto, California a highly seismic region near the San Andreas fault. The structural design will aim to withstand the large earthquakes that are likely to occur during the life span of the dorm. She will use seismic loss probabilities to model earthquake damages, and then allow LCADesign to calculate the total environmental impacts.
Her time in Australia was spent populating a database specific to the Stanford project, and then composing the associated reasoning rules. Schematic design of the Green Dorm is scheduled to begin at the end of September 2006, throughout which she will be documenting how LCADesign aids the project team during early design.